Formerly known as Gamyte, we are thrilled to introduce our rebranded platform, JengAI. With a renewed focus and advanced capabilities, JengAI is set to revolutionize the way subcontractors approach the preconstruction phase, offering a suite of AI-powered features that simplify estimating, bidding, and ultimately contribute to project success.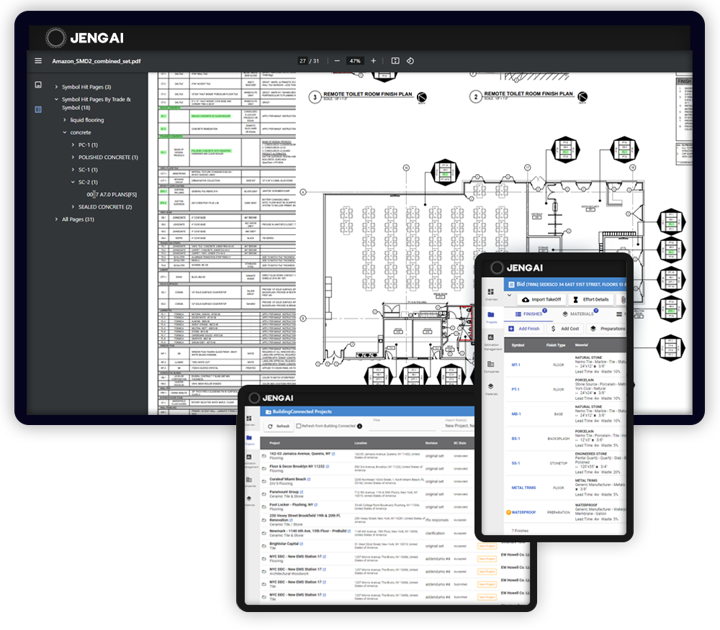 At the heart of our transformation lies the recognition that traditional methods, though reliable, often leave room for human errors that can impact project outcomes. Through our commitment to harnessing AI, we're ushering in an era where precision reigns supreme, human errors are nearly eradicated, and your project's potential is maximized.
Why did we shift our focus to AI?
The answer lies in its unparalleled ability to analyze architectural drawings with unprecedented accuracy. Imagine a realm where the margin for human error has been reduced to a mere 0.2%. With AI as our ally, we're redefining the very concept of precision. Our AI algorithms dissect drawings with meticulous detail, catching discrepancies that might have eluded the human eye. The result? Flawless blueprints that set the foundation for a flawless build.
Advanced Architectural Drawing Analysis:
JengAI employs cutting-edge AI algorithms to meticulously analyze architectural drawings, alleviating the burden on construction estimators. This feature not only saves valuable time but also mitigates the risk of missing crucial details that could lead to costly errors down the line.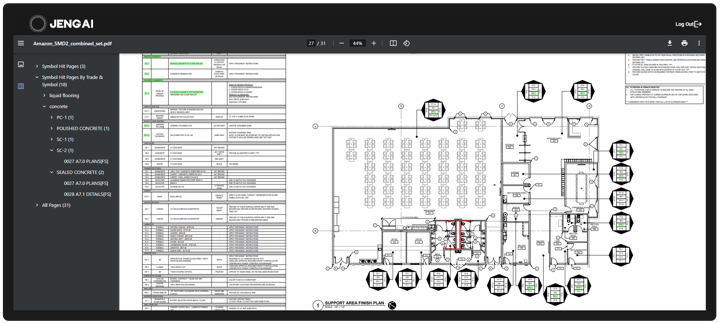 Automated Material Review:
Our platform's AI-driven system scans and reviews materials within architectural drawings, pinpointing potential discrepancies or inconsistencies. This automation ensures that estimators no longer need to manually scrutinize each material, reducing the likelihood of overlooking vital elements and minimizing financial risks.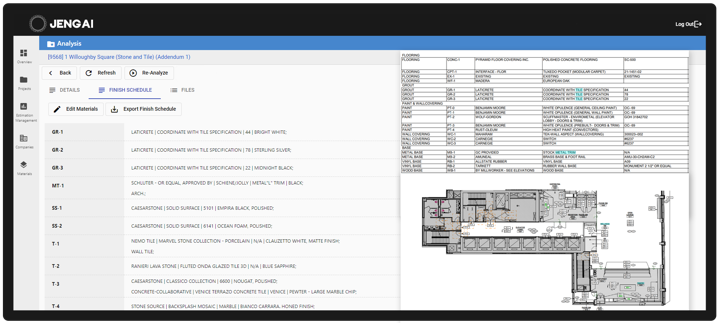 Enhanced Estimating Accuracy:
With JengAI, estimators can bid confidently, knowing they have harnessed the power of AI to enhance accuracy. By leveraging AI to perform detailed analyses, estimators can focus their expertise on strategic decision-making, resulting in bids that are not only precise but also strategically optimized.
Accelerated Estimating: Speed Meets Insight
But that's not all. The power of AI extends beyond error reduction—it's about efficiency too. Analyzed architectural drawings translate into expedited estimating processes. Our AI-driven platform deciphers complexities swiftly, transforming what used to be time-consuming tasks into rapid-fire insights. Picture this: you'll be equipped to bid on twice as many projects as before. Our AI-driven estimating not only saves time but unlocks possibilities, allowing you to explore avenues you might have previously overlooked.
Join us in shaping the future of construction where efficiency meets precision, and projects are built on a foundation of technological innovation. Welcome to the future of subcontractor preconstruction—welcome to JengAI.