Navigating the Preconstruction phase often feels like piecing together a complex puzzle while juggling multiple tasks. As subcontractors, we've all been there – staring at an inbox bursting with bid requests, feeling the pressure of selecting the best ones, and wishing there was a simpler way. Enter Bid Dissemination and Lead Generation platforms. Think of them as a trusted buddy, guiding you through the maze, ensuring you never miss a valuable opportunity. Especially when the win rates for Commercial Subcontractors can be a challenging 2-3%, having that buddy to help you play the volume game is invaluable.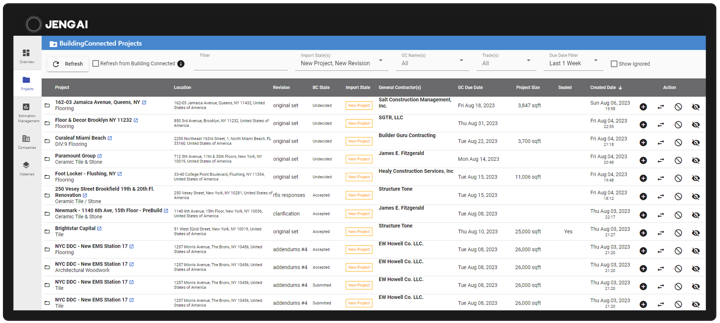 But wait, it gets better. As you traverse this digital landscape, JengAI stands by your side, ensuring you're not just finding projects but also bidding on the ones that promise the best returns. Ready for the journey? Let's delve into the top platforms that, when combined with JengAI, become your ultimate toolkit for bidding success.
Building Connected is not just another platform; it's a vast real-time construction network. It's been highly regarded in the construction community for its intuitive user interface and robust tools that help subcontractors and general contractors alike to navigate the complexities of the bidding process seamlessly.
BidClerk stands as a pillar in the construction industry, boasting a rich database of 1.1 million active projects and commercial contacts. What sets it apart? The platform's granularity. Subcontractors can delve deep into specifics like the contacting method, project type, and even individual contacts. From sectors to pre-bids, BidClerk ensures that every detail is just a click away.
More than just a platform, Dodge Construction Central is a full-fledged resource hub. Subcontractors get access to invaluable industry trends, construction leads, and bid management tools. Additionally, their custom research and a handy checklist for subcontractor pre-qualification make the bidding process smoother, reducing unnecessary hassle and risk.
Where most platforms have a cost barrier, PlanHub promises top-notch services entirely for free. This cloud-based platform offers both construction bid leads and management tools. Whether you're a General Contractor posting a project or a Subcontractor aiming to bid, PlanHub ensures geographical relevance by allowing filtering by state.
The future of construction bidding might well be defined by platforms like Building Radar. Their proprietary AI technology takes the lead in predicting construction projects months in advance. This foresight ensures that contractors can allocate resources efficiently, gaining more exposure and potentially boosting their revenue.
A platform that provides detailed insights into projects. Subcontractors can filter their search by state and gain access to comprehensive project details. A particularly useful feature is the ability to search projects by type and publication date.
Spanning over two decades of service, GovernmentBids has established itself as the linchpin for subcontractors eyeing government RFPs, contracts, and bids. Covering all 50 states with an ever-updated database, it's a goldmine for those vying for government contracts. Plus, their free bid alert service ensures you're always on top of opportunities.
With a massive community of over 800,000 professionals, iSqFt stands tall among bidding platforms. It's not just about finding projects; it's also about understanding market dynamics. Their extensive network of over 1,500 GCs means that establishing meaningful business relationships is just a few interactions away.
Government bids have their unique challenges, and that's where BidNet shines. Providing access across a spectrum of industries, states, and subsectors, BidNet is every subcontractor's ally. The advanced notification alert feature is the cherry on top, allowing ample time for meticulous proposal planning.
As you dive into these platforms and find yourself inundated with bid requests, JengAI is here to streamline your estimating and bidding. By leveraging AI's prowess, JengAI swiftly analyzes architectural drawings, identifying scope-related components, materials, symbols, and keywords. But that's not all. JengAI also aids in bid triage, ensuring you're always bidding on the most lucrative projects.
PS: Seamless integration with these bid dissemination platforms ensures that your workflow is smooth, efficient, and incredibly productive.
Sources: PlanAcademy & IdealCRM